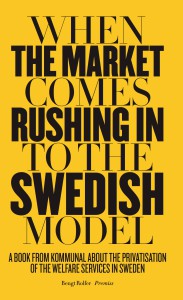 ISBN: 9789186743574
When the market comes rushing in to the Swedish model
During the last 30 years, the market forces have made forays into the Swedish social welfare system. Over a relatively short period of time, a number of private companies have been established within the school, health and social care systems – activities which were earlier practically exclusively run by the public sector.
How has this influenced the quality of the activities, the conditions of employment and the democratic transparency of society? These are some of the questions that Kommunal, Sweden's largest trade union in the public sector, tries to answer in this book.
Another aim of this text is to show how the Swedish welfare system is constructed and how it differs from welfare systems in many other countries. One important difference is that the Swedish welfare system is still publicly funded by taxes paid by all working people, even though parts of it are run by private actors.
---
Författare