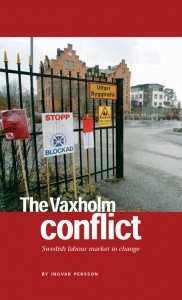 ISBN: 978-91-85343-29-4
The Vaxholm conflict
Politik & Samhälle, Reportage & antologier
Newspapers, radio and TV reported on the Swedish Building Workers Union's demand for a collective agreement and about how the Latvian company.
Laval un Partneri refused to sign it. Trade union organisations made statements and politicians chose sides. The conflict in Vaxholm was neither the first nor the last that was all about the union's fight for an agreement. But it came to be a symbol for how conditions in the fight are changing.
The Vaxholm conflict is journalist Ingvar Persson's story of a watershed in Swedish politics. It is also a story of how globalisation is changing working conditions for the Swedish trade union organisation, and also the foundation for the Swedish welfare state.
---
Författare