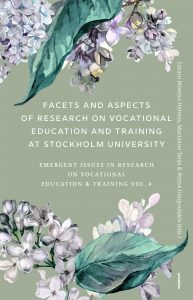 ISBN: 978-91-89077-01-0
Emerging Issues in Research on Vocational Education & Training Vol. 4
Facets and Aspects of Research on Vocational Education and Training at Stockholm University
Emerging Issues in Research on Vocational Education & Training vol.4 
This book is the 4th volume in the series Emergent Issues in Research on Vocational Education and Training an outcome of the research work and international networking of the research group VETYL (Vocational Education & Training/Yrkeskunnande och Lärande), at the Department of Education, Stockholm University, Sweden.
This volume, Facets and Aspects of Research on Vocational Education & Training at Stockholm University, presents texts representatives of the research work done by members of the research group VETYL. Colleagues from partner institutions internationally joined members of the group intending to provide a good sample of the diversity of research problems the VETYL group deals with. The aim is also to highlight international networking as core aspect of the group's activity. The title Facets and aspects of research on vocational education & training at Stockholm University serves as an umbrella where comparative analysis as well as other research outcomes of cross-national interest are presented.
The content of this volume is of interest for a diversity of readers including under-graduate students, in particular students in initial and in-service teacher training programs for VET, post-graduate students, researchers and policy makers in Vocational Education & Training.
Authors: Alex Cuadrado, Camilla Gåfvels, Carin Cools, Enni Paul, Eva Eliasson, Harry Cephas Charsmar, Janne Kontio, Jesús Alemán Falcón, Johanna Lasonen, Juan Alberto Mena Lorenzo, Katarina Lagercrantz All, Lázaro Moreno Herrera, María A. Calcines Piñero, Marianne Teräs, Niclas Rönnström, Pedro Luis Yturria Montenegro, Petros Gougoulakis, Pia Skott, Ruhi Tyson, Sofia Antera, Stig-Börje Asplund, Viveca Lindberg.
Utgivningsår: 2019
---
Författare