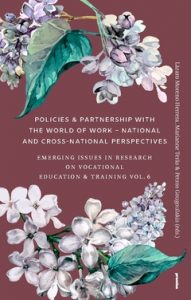 ISBN: 9789189077171
Emerging Issues in Research on Vocational Education & Training Vol. 6
Policies & Partnership with the World of Work – National and Cross-National Perspectives
Emerging Issues in Research on Vocational Education & Training Vol. 6

This book is the 6th volume in the research book series Emergent Issues in Research on Vocational Education and Training an outcome of the research work and international networking of the research group VETYL (Vocational Education & Training/Yrkeskunande och Lärande), at the Department of Education, Stockholm University, Sweden.
The title of this volume Policies & Partnership with the World of Work – National and Cross-national Perspectives serves as an umbrella for the presentation of research that focuses on a variety of policies issues and dimensions of the partnership with the world of work.
Editorial Team
Editors
Professor Lázaro Moreno Herrera, Stockholm University, Sweden
Associate Professor Marianne Teräs, Stockholm University, Sweden
Associate Professor Petros Gougoulakis, Stockholm University, Sweden
Editorial Assistant
Ph. D Candidate Sofia Antera, Stockholm University, Sweden
Editorial Board
Dr. Annica Isacsson, Haaga-Helia, University of Applied Sciences, Finland
Professor Christian Helms Jørgensen, Roskilde University, Denmark
Dr. Christof Nägele, University of Applied Sciences, Switzerland
Associate Professor Eleni Prokou, Panteion University, Greece
Professor Fernando Marhuenda, University of Valencia, Spain
Associate Professor Francesca Salvà Mut, University of the Balearic Islands, Spain
Professor Gun-Britt Wärvik, Gothenburg University, Sweden
Associate Professor Harm Biemans, Wageningen University, The Netherlands
Dr. Haryanti bt Mohd Affandi, National University of Malaysia, Malaysia
Professor Hiroshi Numaguchi, Daitobunka University Tokyo, Japan
Professor Juan Alberto Mena Lorenzo, University of Pinar del Río, Cuba
Professor Krista Loogma, Tallinn University, Estonia
Dr Maarit Virolainen, University of Jyväskylä, Finland
Dr. Magdolna Benke, University of Debrecen, Hungary
Professor Matthias Pilz, University of Cologne, Germany
Professor Michael Gessler, University of Bremen, Germany
Professor Miguel Pereyra, University of Granada, Spain
Dr. Natasha Kersh, University College London, United Kingdom
Professor Per Andersson, Linköping University, Sweden
Professor Petri Nokelainen, Tampere Universit, Finland
Professor Ramlee bin Mustapha, Sultan Idris Education University, Malaysia
Professor Stephanie Allais, University of Witwatersrand, South Africa
Professor Stephen Billet, Griffith University, Australia
Associate Professor Vibe Aarkrog, Aarhus University, Denmark
Associate Professor Victor Hernandez-Gantes, University of South Florida, USA
All members of the Editorial Board serve also as reviewers.
Utgivningsår: 2021.
---
Författare