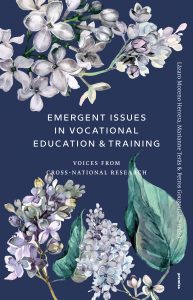 ISBN: 978-91-86743-74-1
Emerging Issues in Research on Vocational Education & Training Vol. 1
Antologi, Arbetsliv, Politik & Samhälle, Skola
Voices from cross-national research
Emergent issues in vocational education & training vol. 1 
This book is an outcome of the international networking of the research group VETYL (Vocational Education & Training/Yrkeskunnande och Lärande), at the Department of Education, Stockholm University, Sweden.
In May 2012 the group organised the first Stockholm International Conference in VET, an academic event that has ever since been organised yearly following the modality of invited papers. The book contains selected papers presented in the sessions of the conference held 8 and 9, May 2017. The contributions deal with a wide range of areas of research within the Vocational and Training field in different national contexts as well as cross-nationally.
The book illustrates well the diversity of research in the field in a way that is not frequently available in the literature today. The content is of interest for a diversity of readers including under–graduate students, in particular students in initial and in-service teacher training programs for VET, post-graduate students, researchers and policy makers.
Authors: Ali Osman, Ana M. Calvo-Sastre, Annica Isacsson, Antoni Cerdà-Navarro, Åsa Broberg, Benedicte Gendron, Chiara Biasin, Christof Nägele, Fernando Marhuenda, Francesca Salvà-Mut, Franz Kaiser, Hamid Asghari, Heta Rintala, Johanna Lasonen, Jonas Gustavsson, Kristina Kühn, Larissa Freund, Laura Pylväs, Lázaro Moreno Herrera (ed.), Lewis Hughes, Maarit Virolainen, Marianne Teräs (ed.), Martin French, Naomi Alphonsus, Nicole Kimmelman, Nicole Naeve-Stoss, Nina-Madeleine Brummel, Patsawee Rodcharoen, Pekka Kämäräinen, Petri Nokelainen, Petros Gougoulakis (ed.), Staffan Bolin, Valentina Kononova, Vibe Aarkrog.
BUY THE BOOK HERE!
Utgivningsår: 2018
---
Författare