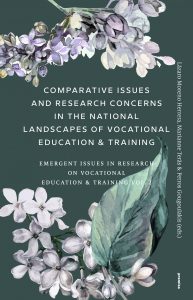 ISBN: 978-91-86743-87-1
Emerging Issues in Research on Vocational Education & Training Vol. 2
Antologi, Handböcker, Politik & Samhälle, Skola
Comparative Issues and Research Concerns in the National Landscapes of Vocational Education & Training
Emerging Issues in Research on Vocational Education & Training Vol. 2
This book is the second one of the serie Emergent Issues in Research on Vocational Education & Training. It is an outcome of the international networking of the research group VETYL (Vocational Education & Training/ Yrkeskunnande och Lärande), at the Department of Education, Stockholm University, Sweden.
In May 2012 the group organized the first Stockholm International Conference in VET, an academic event that has ever since been organized yearly following the modality of invited papers. The book contains selected papers presented in the sessions of the conference held 7 and 8, May 2018. The contributions depict research within the Vocational and Training held in different national contexts as well as cross-national issues.
This volume illustrates well the diversity of research in the eld in a way that is not frequently available in the literature today. The content is of interest for a diversity of readers including under-graduate students, in particular students in initial and in-service teacher training programs for VET, post-graduate students, researchers and policy makers.
Authors: Arasinah Kamis, Amaruni Alwi, Benedicte Gendron, Bushra Limuna Ismail, Edward C. Fletcher, Hannah Frind, Karen Evans, Lázaro Moreno Herrera, Marianne Teräs, Mathias Götzl, Matthias Pilz, Mercedes Chacón-Delgado, Mónica Moso-Díez, Nina-Madeleine Peitz, Patrick Geiser, Petros Gougoulakis, Robert W. Jahn, Thomas Persson, Victor M. Hernandez-Gantes
BUY THE BOOK HERE!
Utgivningsår: 2018
---
Författare